Several successful selection days have already been organized in June, and despite the fact that two more selection days are planned for July 14 and 16, we are already presenting the first eight foals from the EDS-Prinsenstad foal collection this week. View these foals.
Dream collection
So far, the EDS team speaks of a real dream collection. "Every year we have been able to include many high-quality foals in the auction, but this year is really special. We have taken in foals from various sires and they all move with a lot of quality. It really is a dream collection for us."
First eight foals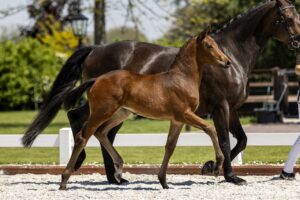 With the first eight foals that have been published online, a few striking names can be found immediately. Last year the stallion Livius turned out to be the purveyor of the top foals in the collection and this year again he has several talented offspring in the collection. One of these offspring is the chic filly Rebel Star (Livius x Oscar), who descends from the sporty Bryolieta line.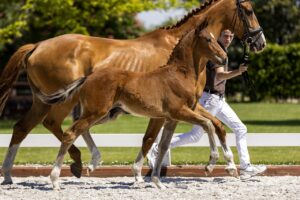 Besides Rebel Star, the impressive Radetzky (Johnny Depp x Rousseau) also stands out. This appealing colt is the son of the elite, performance mare Cyberty, who is also the full sister of the selected stallion and Small Tour horse Harmony's Wiebert.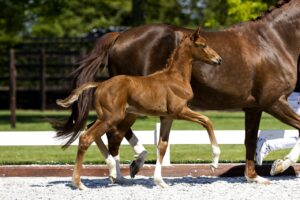 If you want a foal that has a beautiful model, moves very well and comes from a performance line, be sure to check out Royal Edition A. (Blue Hors Monte Carlo TC x Florencio). This very handsome colt moves with a lot of power and suppleness. Not surprising, because dam Hot Shot A is Z2 classified and is the full sister of the well-known horse Illusion A, who won the VSN trophy as a 4-year-old and placed 4th in the Pavo Cup.
Selection days on 14 and 16 July
Do you have a foal that should certainly not be missing in the 2021 dream collection? Register your foal via the online registration form. Participating in a selection day is free of charge. Your foal will be presented to the EDS-team during this day and you will be informed immediately after the presentation whether your foal will be included in the collection.
For questions about the collection or about the selection days, please email info@excellentdressagesales.com or call EDS team member Joep Schellekens (06 26 36 01 96).